Our Staff
0ur real Assets are calculated in "The Human Resources Department" . Alebda Catering Services Co. is all about the Nice People who form our team. We proudly nominate them as our Ambassadors in the Market! Always looking to reach beyond quality service, our people strive that customers are left with a glowing memory of our Catering Services.
It starts with the selection process…
To allow us become more productive and efficient, we consistently hire best performers through rigorous recruitment agents and processes.
Then Training application…
We heavily invest in our staff to maximize their acquisition of knowledge, skills, and competencies as a result of regular continuous teaching of vocational and practical training programs that relate both to the specific jobs and Managerial tasks. In addition to the basic training required for the specific occupation, we constantly recognize the need to continue training beyond initial qualifications: to maintain, upgrade and update skills throughout working life.
Furthermore, we implement other proactive and useful competencies training for future Management posts preparation. It forms the core of apprenticeships and provides the backbone of content at Alebda Catering Services Co.
Then The Reward Stage…
The reward is the challenge of getting up the professional career ladder through a well designed Career Path-ing plan for each position and each employee…where the best performers get further promotions and better positions as they grow with the Company.
Team Work Culture…
The team wins or the team loses…this is our business concept. Our Managers are neither scared nor shy of rolling up their sleeves and assist side by side a room boy or a waiter to get the job done. Prompt service and immediate decision making with positive initiatives is the keys of our continuous success. Sense of achievement makes us proud of belonging to this team.
Our Company
ISO Awards

Mission & Values

Food Catering Service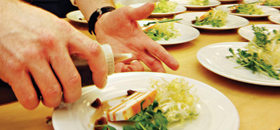 Quality Policy